"White trash get down on your knees, time for cake and sodomy."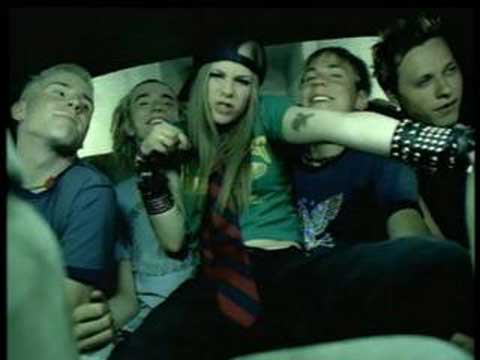 Above: Pop star/fashion disaster Avril Lavigne rocks out with her cock out while proving society's lack of need for trucker hats.
ATTN: Woman on bus who was the closest thing to white trash I've ever seen (And I come from a small, small town)
I want to thank you for playing your discman super, super loud so everyone on the bus can hear your nifty Avril Lavigne CD. I also want to thank you for passionately mouthing the lyrics, putting the rest of us on the bus in that awkward position between "Look away, don't stare, pretend you don't notice the incredible lack of coolness, one might say, a black hole of coolness, sitting across from me" and "Oh my God, I'm going to stare at her and mock her with my hateful eyes because if you're going to listen to Avril Lavigne, you deserve to be eye-mocked."
I'd also like to thank you for getting that god awful, redundant Avril song in my head. Y'know, that song. The annoying one. No, the other one.